If you're even a casual viewer of PBS's "Antiques Road Show," you've no doubt seen the visitor who brings in a treasured piece of old silver or a much-admired ceramic pot or vase. One of the first questions the expert appraiser asks is whether there are any markings on the piece. Clues as to the time period when it was crafted. Hints as to by whom and where it was made. The camera's close-up hones in on the bottom and the potter's mark comes into focus. If you've shopped at Mainly Clay, you've also seen our studio mark on the pieces that have been made for sale specifically for us. By one of us. These markings—symbols, initials, or a simple abstract design—stand to identify our studio's work and, for customers, a marker of a degree of quality. Nothing wears the Mainly Clay Studio mark unless it meets our quality assurance.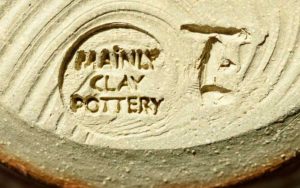 In the past, the potter's mark was associated with pottery produced primarily by factories (such as Wedgwood), and these marks designated not only the company of origin but also often the individual artist who made the piece. These marks, stamps, or chops—distinctive "signatures"—are found on pots produced around the world and span centuries. Take a look in your kitchen cabinet, and there's a good chance you'll see the mark of the factory of origin stamped on the bottom of plates and bowls.
Whenever you attend one of our one-day classes, you'll be prompted sign or mark your piece in a way that's meaningful to you. That's so that we can identify your piece for firing and glazing, but it also serves to encourage you to see your work as artists see theirs: as a unique creation identifiable with an individual. Some marks are also accompanied by the year the piece was made.
Our studio members, too, develop their own marks as their work progresses and grows more refined. What once might have been a hasty scrawl with a wooden pencil tool morphs into a stamp of an image that resonates for that person. Some of our members invest in custom, pewter marks. That's when they know they've made a special connection with their work in clay, as they "sign" their initials or symbol into the work.
The next time you're in Mainly Clay's studio shop, look carefully at the marks from our featured artists: JJ Eisfelder's "JJ," Tray Eppes' "TE," Cricket Edmonson's "CE," and  John Jessiman's and Randy Edmonson's signatures. And, of course, look for the "Mainly Clay Pottery" stamp, as well. When you see the potter's mark, you'll know that these unassuming impressions have even more significant stories to tell. Just ask.