Classes—Fabrics
Click here for information on all of our classes. Look over our fabrics and stained glass classes below.
Register here on the site, or call 434-315-5715 or email butlerp@mainlyclay.com. If you must cancel, please give us at least 24-hour notice and we will give you a gift certificate for another class.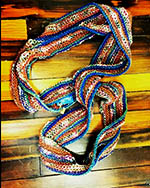 Instructor: Pam Butler
Sat, June 30 -10 am-12 pm add this date
Cost: $10
Yarn & needles for sale during class
More
| | | Available Spaces |
| --- | --- | --- |
| June 30, 2018 | | 8 |
Classes—Stained Glass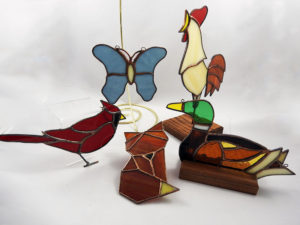 Instructor: Steve Barber
Make a stained glass sun-catcher, using copper foil tape and a soldering iron, wide selection of designs: cardinal, rooster, butterfly, patchwork quilt, mallard and more.
Cost $55, includes materials
Thur, Apr 19, 6-8 pm
Sat, May 5, 10 am-12 pm
More
| | | Available Spaces |
| --- | --- | --- |
| January 4, 2018 | | 4 |
| January 21, 2018 | | 4 |
| February 17, 2018 | | 1 |
| March 17, 2017 - March 17, 2018 | | 4 |
| April 19, 2018 | | 2 |
| May 5, 2018 | | 2 |