General Classes
Click here for information on all of our classes.
Look over our general and ongoing classes below. Click here for our variety of one-day classes.
Register here on the site, or call 434-315-5715 or email butlerp@mainlyclay.com. If you must cancel, please give us at least 24-hour notice and we will give you a gift certificate for another class.

ORNAMENT PAINTING –
No reservation needed
Stop-In Ornament Decorating – Choose from a variety of shapes
Sat, Nov 25 – 10 am-4 pm
Sun, Dec 10 – 1-3 pm
Cost: $8 per ornament or 2 for $15
Ornaments will be ready for pick-up – Sun, Dec 17
Sorry, there are no events currently available.
General Classes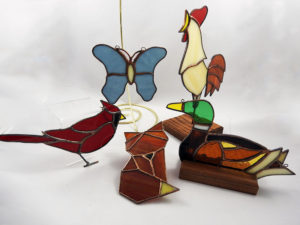 All Skill Levels
Instructor: Steve Barber
Make a stained glass sun-catcher, using copper foil tape and a soldering iron.
Cost: $55, includes materials
Sat, Sept 9 – 10 am-12:30 pm
Fri, Sept 22 – 10 am-12:30 pm
Wed, Oct 4 – 10 am-12:30 pm
Sat, Oct 21 – 10 am-12:30 pm
Sat, Nov 11 – 10 am-12:30 pm
Fri, Dec 1 – 10 am-12:30 pm
Sun, Dec 17 – 1-3:30 pm
Sat, Dec 30 – 10 am-12:30 pm
More
| | | Available Spaces |
| --- | --- | --- |
| September 22, 2017 | | 4 |
| 10:00 AM - 12:30 PM | | |
| | $55.00 | |
| October 4, 2017 | | 3 |
| 10:00 AM - 12:30 PM | | |
| | $55.00 | |
| October 21, 2017 | | 0 |
| 10:00 AM - 12:30 PM | | |
| | $55.00 | |
| November 11, 2017 | | 3 |
| 10:00 AM - 12:30 PM | | |
| | $55.00 | |
| December 1, 2017 | | 3 |
| 10:00 AM - 12:30 PM | | |
| | $55.00 | |
| December 17, 2017 | | 0 |
| 10:00 AM - 12:30 PM | | |
| | $55.00 | |
| December 30, 2017 | | 4 |
| 10:00 AM - 12:30 PM | | |
| | $55.00 | |