Classes—3 to 6 Weeks
Click here for information on all of our classes.
Look over our general and ongoing classes below. Click here for our variety of one-day classes.
Please register by 5:30 pm the day before the class starts. Register here on the site, or call 434-315-5715 or email butlerp@mainlyclay.com. If you must cancel, please give us at least 24-hour notice and we will give you a gift certificate for another class.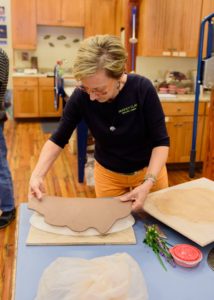 4-week class
HAND-BUILDING WEDNESDAY
All Skill Levels
Instructor: Pam Butler
Class meets once a week, includes materials
Create using slabs of clay weeks 1-3, glaze week 4
4-week class  -Wed -10 am-12:30 pm
Sept 11, 18, 25, Oct 2
Cost: $140 +$28 tool kit
More
| | | Available Spaces |
| --- | --- | --- |
| September 11, 2019 | | 6 |
Classes—3 to 6 Weeks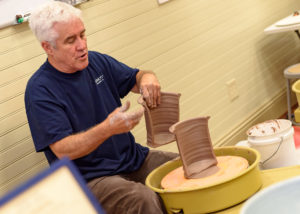 All Skill Levels
Instructor: Tray Eppes
Class meets once a week; try out the wheel or fine-tune your throwing skills
Throw on the wheel week 1 & 2
Glaze pots week 3
Meets Tue -6-8:30 pm
Aug 20, 27, Sept 3
Sept 10, 17, 24
Oct 15, 22, 29
Cost: $105 -includes materials
More
| | | Available Spaces |
| --- | --- | --- |
| January 8, 2019 - January 22, 2019 | | 0 |
| February 19, 2019 - March 5, 2019 | | 0 |
| March 26, 2019 - April 9, 2019 | | 0 |
| April 30, 2019 | | 0 |
| June 4, 2019 | | 3 |
| July 16, 2019 | | 0 |
| August 20, 2019 | | 1 |
| September 10, 2019 | | 4 |
| October 19, 2019 | | 4 |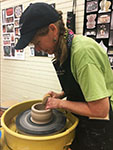 3-week class
POTTER'S WHEEL FRIDAY – All Skill Levels
Instructor: Cricket Edmonson
Class meets once a week; try out the wheel or fine-tune your throwing skills
Throw on the wheel week 1 & 2  Glaze pots week 3
3-week class
Fri, Aug 30, Sept 13, 27 -10 am-1 pm
Cost: $105 -includes materials
More
| | | Available Spaces |
| --- | --- | --- |
| August 30, 2019 | | 4 |